Vitablossom Hemp Protein Powder, USDA Organic 100g (5g*20 sachets)
The Vitablossom hemp protein powder is an off-white powder with a unique scent of hemp and no odor. Relatively non-phosphorus, it is the skeleton of cellular DNA; it is a very good source of plant protein; the egg white egg contains no tryptophan inhibitor, does not affect the absorption of protein, some oligosaccharides and sensitization without soybean Factor, it will not cause bloating, nausea and allergic reactions.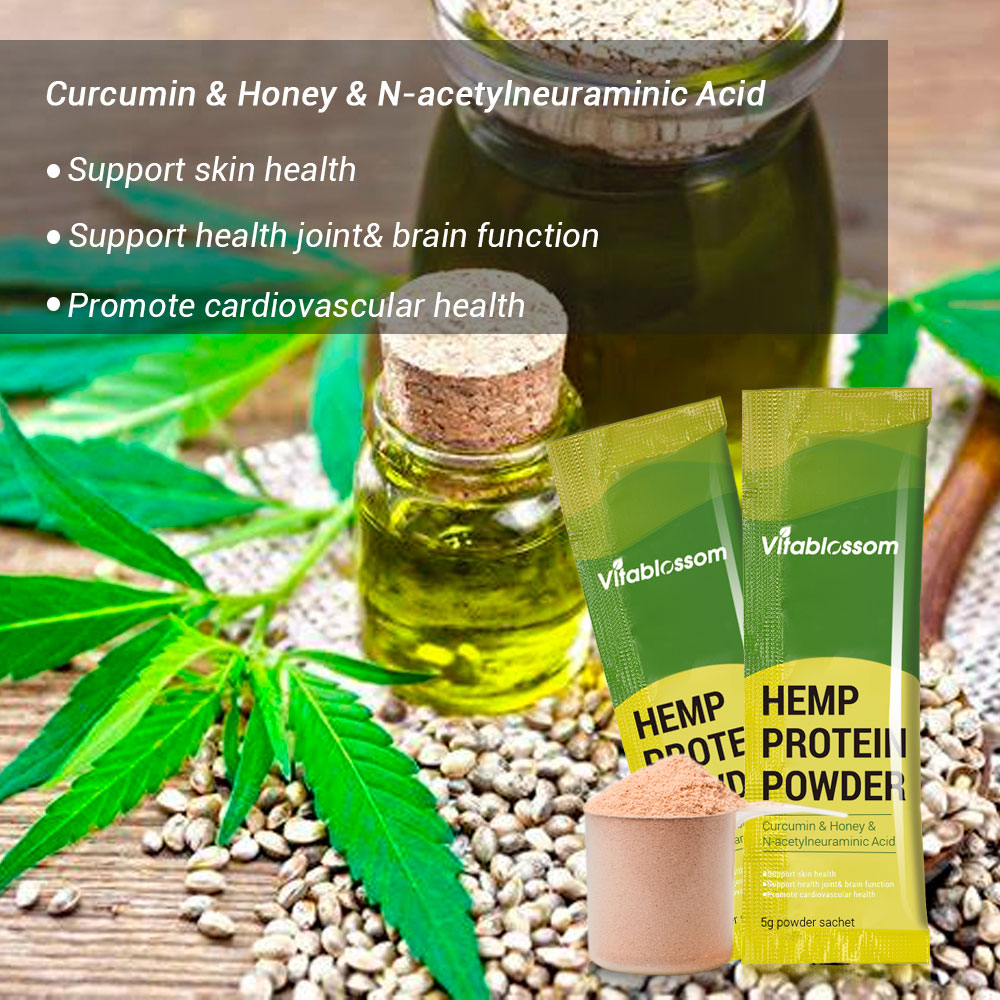 Advantages and characteristics of Vitablossom hemp protein powder:
A Complete Protein
Easy to Digest
A Good Source of Fiber
Contains Unsaturated Fats
Rich in Minerals and Antioxidants
The Vitablossom hemp protein powder has a higher absorption rate than the current market protein powder, and has an excellent taste. It is the best choice for protein nutrition supplement and food processing auxiliary materials. It can be directly used as a protein nutritional supplement for the human body, and is widely used in the pharmaceutical, food, beverage and daily chemical industries. 65% of hemp protein is edestin, which has a good effect on promoting digestion.
The main role of Vitablossom hemp protein powder:
Curcumi & Honey & N-acetylneuraminic Acid
Support Skin Health
Support Health Joint & Brain Function
Promote Cardiovascular Health
Hemp Protein's Effect of Each Component
Hemp seed protein powder
In terms of health and nutrition, the benefits of hemp are very significant. Due to the special structure of its gamma globulin and albumin, hemp is considered a high quality protein. Secondly, Hemp is rich in essential fatty acids Omega 6 and Omega3, which have a heart health and anti-inflammatory effect, and has an ideal ratio for the human body. It is also an important source of many key nutrients such as dietary fiber, vitamin E and minerals, including phosphorus, potassium, sodium, magnesium, sulfur, calcium, iron and zinc. In addition, hemp can improve cardiovascular and reproductive health, improve digestion and skin, and help people stay healthy.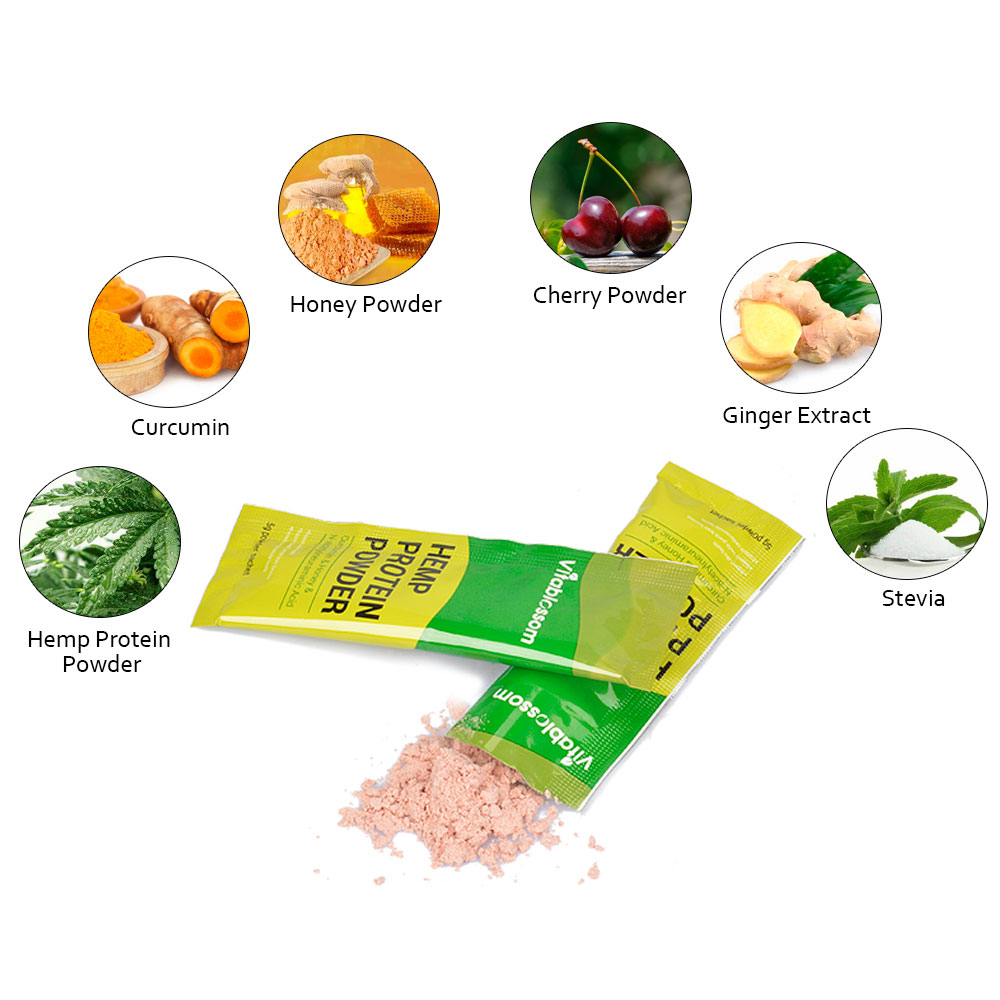 Curcumin
Curcumin is a substance related to traditional Chinese medicine that has been widely studied in various countries around the world after artemisinin. It is a yellow pigment extracted from the rhizome of gingeraceae and other turmeric. It is mainly classified into curcumin, which is the most active polyphenolic substance, which can quickly penetrate the cell membrane and induce apoptosis.
Honey powder
Honey powder, also known as honey dry powder, is a solid powder prepared by filtration, microencapsulation, blending, concentration, crystallization and drying of high-quality honey.
Coniferous Cherry Powder
Coniferous Cherry is the third highest vitamin C content in plants currently planted. The vitamin C content per 100 grams of fruit is 1677 mg, which is second only to Kakadu Li and Kamgo, 31 times that of lemon, 27 of strawberry. Times, 18 times that of kiwifruit, and 7 times that of guava, which is considered to be extremely high in vitamin C. It is one of the "kings of natural vitamin C", and also contains vitamin A, vitamin B1, vitamin B2, iron, calcium, etc. Element, vitamin C is an important component to maintain human life. It can prevent colds, prevent scurvy, improve the body's resistance, and has certain effects on beauty and cancer. In recent years, the beauty and health value of Coniferous cherries have gradually been accepted by consumers and have been well received. Through research, it has been found that coniferous cherries have the therapeutic effect of damaging the skin by ultraviolet rays, and the anti-oxidation and anti-glycation effects of the polyphenol component acerOnidi in the Coniferous Cherry cherry promote the formation of type IV collagen.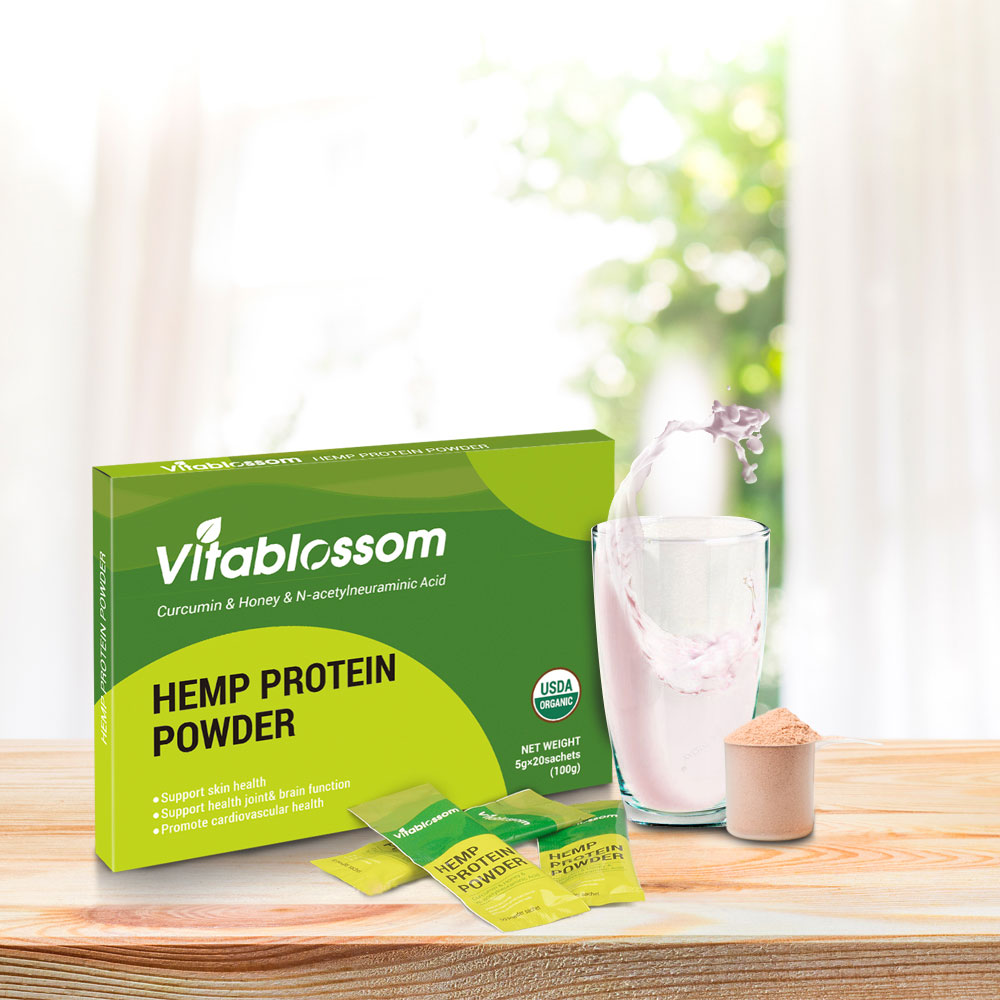 Ginger extract
For many years, ginger has been trusted for its benefits in digestive health, and a large body of clinical evidence has proven its efficacy in treating nausea and indigestion.These are all due to the active compounds in ginger - gingerol and shogaol.
Stevia leaf
Stevia is a natural sweetener familiar to most people. It is also a perennial herb commonly found at the junction of Paraguay and Brazil in South America. The leaves of stevia contain a sweet substance called "stevia", and the refined stevia is a colorless and odorless crystal. It has 200 times sweetness of sugar.
Typical Amino Acid Content Per Serving(Serving Size:5g)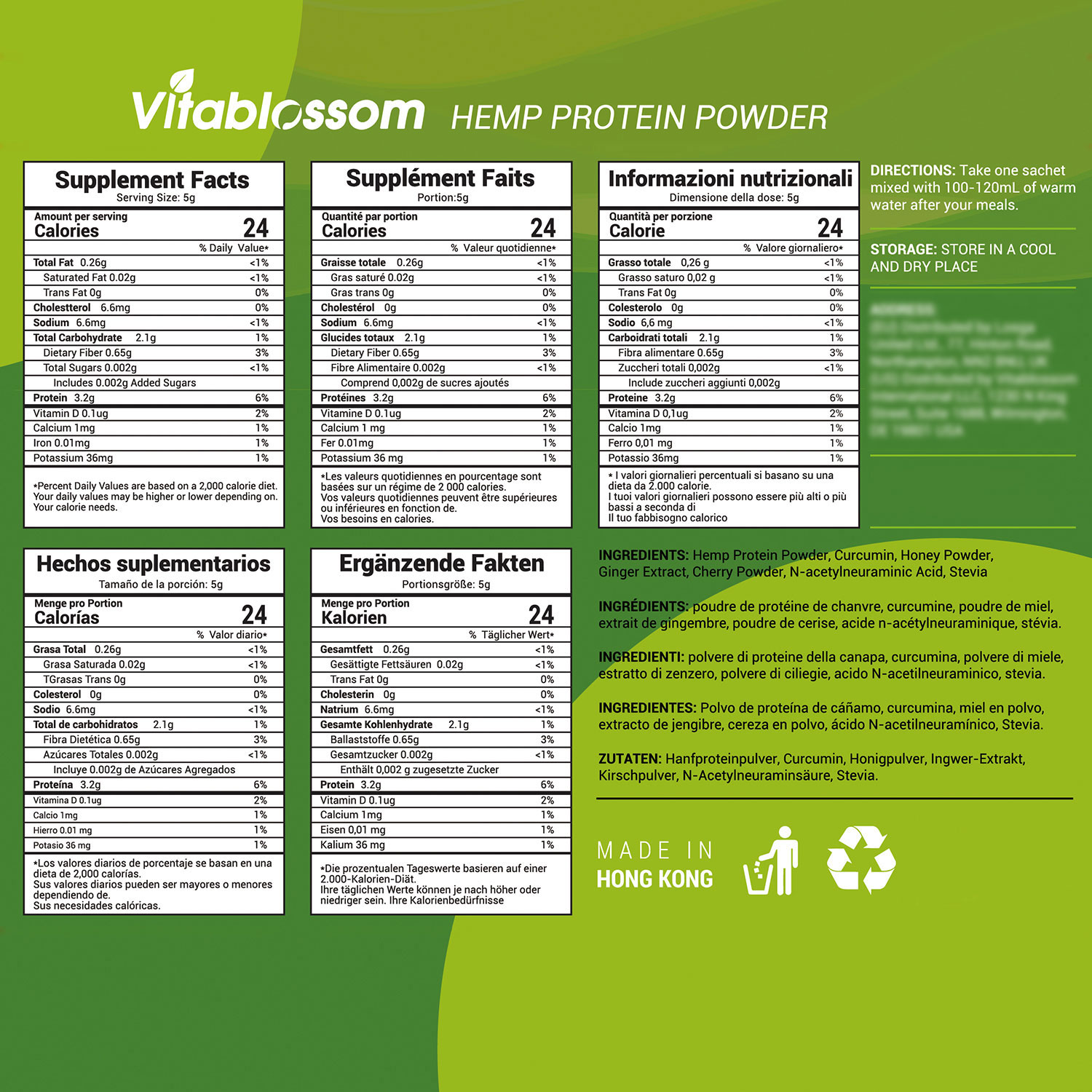 Alanine ------------ 487mg
Arginine ----------- 312mg
Aspartic acid ------ 72mg
Cystine ------------ 93mg
Glutamic acid ------ 123mg
Glycine ------------ 269mg
Histidine ---------- 102mg
Isoleucine --------- 313mg
Leucine ------------ 213mg
Lysine ------------- 182mg
Methionine --------- 132mg
Phenylalanine ------ 283mg
Proline ------------ 66mg
Serine ------------- 154mg
Threonine ---------- 135mg
Tryptophan --------- 92mg
Tysonine ----------- 91mg
Valine ------------- 81mg